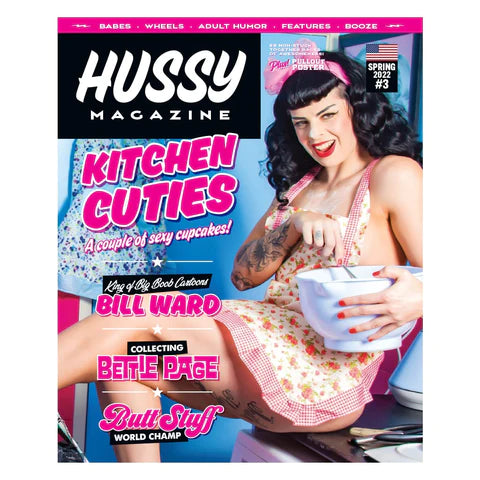 HUSSY MAGAZINE - ISSUE #3 - PRINT
HUSSY MAGAZINE - Issue #3
What's inside Issue #3 (Spring 2022)
Hussy Quickies:
The Allure of the Local Dive Bar by @papschop
Sticky Pages to Sticky Screens by Bo Nuhr
Pay Your Fucking Dues by @nick_oddrod
Is Fingering a Lost Art Form? By @miabellafica

Babe feature:
In Fabulous Las Vegas with Vinnie Von Vintage
The Hussy Fun Pages:
Filled with random facts, jokes, pick up lines, boob games, and just all around silliness!
Babe feature:
Get to Know Queen Eastcoast
Building Cool Ass Shit with Jerry Cerqua of 812, Inc.
Babe feature:
Hussy Magazine's pinup contest winner Sky Curran
Babe feature:
Hussy Butt Stuff World Champion Elephant Graveyard
Collecting Bettie Page by @houseofbettie
Issue 3's Featured Babe:
Kitchen Cuties with Jessica Habit and Valerie Diamond
Babe feature:
Ginny Rosewater
Babe feature:
The sexy and milky Tahlia Jade
Babe feature:
Cuddle time with Victoria Cunningham
Booze feature:
The Perfect Blend: Speakeasy Motors Whiskey Co.
Keyhole Kapers
Artist feature:
Kustom Kulture airbrush art by Jessie Madera
Comic feature:
The Comedy of David Lucas
Men's magazine artist legend:
Bill Ward - The king of big boob cartoons
Event feature:
Rippin' It Up at Fuel Cleveland

...
Hussy Magazine is printed on full color newsprint for that old time feel. Front cover and centerfold will be full color glossy paper, featuring the Hussy babe of the issue.
68 non-stuck-together pages of sexy and manly awesomeness!